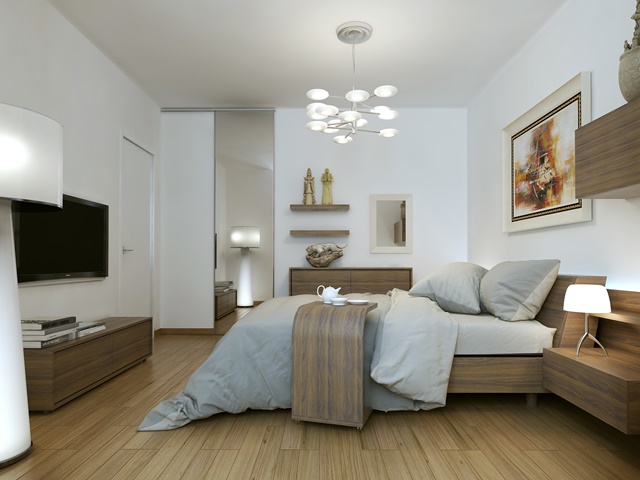 Of all the rooms in your house, the one that most needs to feel like home is your bedroom. After a long day, you want to retire to a comfortable, cozy room that makes everything feel alright. There are a lot of ways to achieve this, so how do you choose? Here are four of the most popular options with a few pros and cons for each:
Carpet
Pros: Carpet has long been the top choice for bedrooms, and with good reason. It's durable, soft, and warm. There's nothing like waking up and putting your feet down on a soft, luxurious carpet on a cold winter morning. It also has great insulating and sound-deadening properties to keep your bedroom quiet and warm.
Cons: No matter where a carpet is in the house, staining is always an issue. If your carpet is stained, sometimes it just can't be fixed. It can be difficult to keep clean, and it will collect dust and other airborne particles, which can be especially negative for those with allergies.
Hardwood
Pros: You can't beat the warmth of carpet, but the warmth of the color of beautiful hardwood also can't be beaten. Hardwood is a durable, long-lasting, time-tested option for your bedroom floor. This is especially good for good ol' down-home, rustic folks who just love the ways things have always been.
Cons: The price tag on hardwood is always a little bit difficult to swallow, which chases many people away. Also, it can easily be scuffed and scratched by heavy bedroom furniture, especially if you're one who likes to rearrange things. Though you can refinish it, this process is very dusty and messy, and will require you to remove all the furniture to avoid getting it dirty.
Cork
Pros: This is one for those who love things that are green. It's made from the bark of a cork oak, which grows back every few years and doesn't require the trees to be killed, making it the environmentalist's dream. It's also very soft under foot, which is great for those who love the cozy feel of carpet but can't handle the cleaning or allergens. It's mildew and mold resistant, and relatively inexpensive.
Cons: Cork's softness can be a perk, but it also makes it less durable than many of its counterparts. It can easily be dented by heavy furniture and high heels, and will need to be re-sealed every few years. Though this isn't a difficult process, it can be a hassle.
Vinyl
Pros: Vinyl, especially with the recent arrival of luxury vinyl, provides a durable alternative to stone and ceramic tile without the hardness, coldness, or the price tag. It accurately mimics many other styles of flooring, lasts a long time, and is incredibly easy to clean.
Cons: Vinyl is not great for the environment due to the use of non-renewable resources in manufacturing. It can sometimes lower the air quality in the room for the first few weeks after installation. Also, for the lovers of classics, though it can look and feel a bit like hardwood and ceramic, it just isn't the same thing.
No matter what material you'd like to have in your bedroom, be sure to call Twin Flooring for an in-home estimate or consultation today!